Landing a good job right after college can often turn into a real struggle.
You've got zero skills and no relevant experience to talk about. But that's exactly what the summers — besides lots of other things — are good for. To snatch yourself a cool summer job, earn a little pocket money and get some solid hands-on experience.
Naturally, the first step you need to do is write a convincing resume and cover letter and send in your application as soon as possible.
Here are 7 great samples from our Resume Examples Library that will help you get started right away.
1. Philips Marketing Management Intern Resume Example
Fresh graduates may lack skills but have a chance to make up for it by showing determination and true passion.
If you want to write a good internship resume, use a variety of adjectives to describe yourself as a motivated and enthusiastic individual.
Build your resume on your strengths, not weaknesses. Focus on your soft skills, education and include the list of certifications and awards that you've earned so far.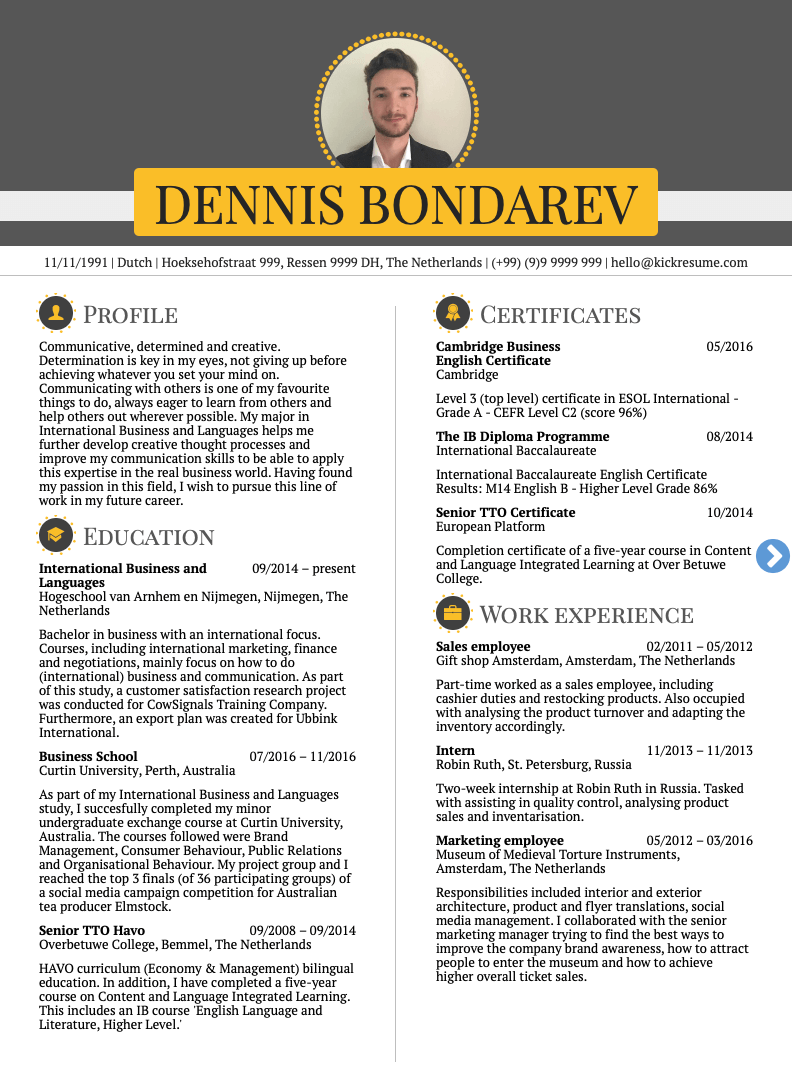 2. Google Software Engineer Intern Resume Example
When talking about interns without any previous work experience, top companies like Google hire exceptionally gifted young professionals that know their value and know how to sell it to them.
So if you don't want your summer job hunt come to naught, focus on your professional portfolio. Describe your academic and personal projects — they illuminate the real accomplishments and the real work that you've done so far.
3. Refugee Volunteer Resume Example
Voluntary jobs belong to your resume. They indicate that building healthy relationships with your community and environment is your priority.
Whether it's service for the poor in your neighborhood or humanitarian work for an NGO, these activities will show you've developed a much broader vision of your life and work.
If you'd like to learn more about the person with such a spectacular life, read the story behind the resume. It's totally worth it.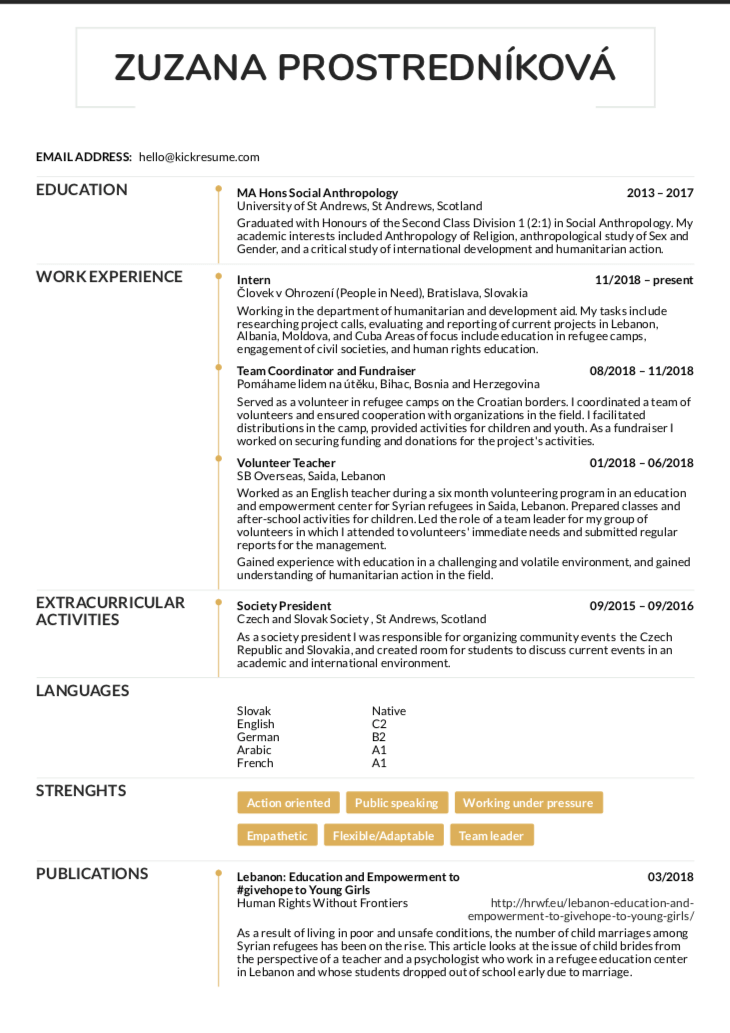 4. Volvo Mechanical Engineer Resume Sample
This one takes a bit more relaxed approach to the descriptions in individual sections of the resume. It's a perfect example of how to create brief stories on a short amount of space to engage the reader.
Unarguably, it works here much better than bullet points and provides better insight into situations the job seeker was facing. Just trace the verbs to see how quickly the story unfolds:
Our team got challenged by NASA to design a solution for the Jet Set Mars Challenge: a mobility solution for first operations on Mars. We designed an exoskeleton with a jetpack and HUD for mobility, and proposed a method for obtaining fuel on-site. We reached Top 25 Global Prize and Top 5 in Best Use of Hardware among 1,287 projects.
All in all, don't think you need to keep your resume dry and impersonal just because it's a common practice. If you have a story to tell that you're able to fit in your resume, do so to add a bit of personal touch to your resume.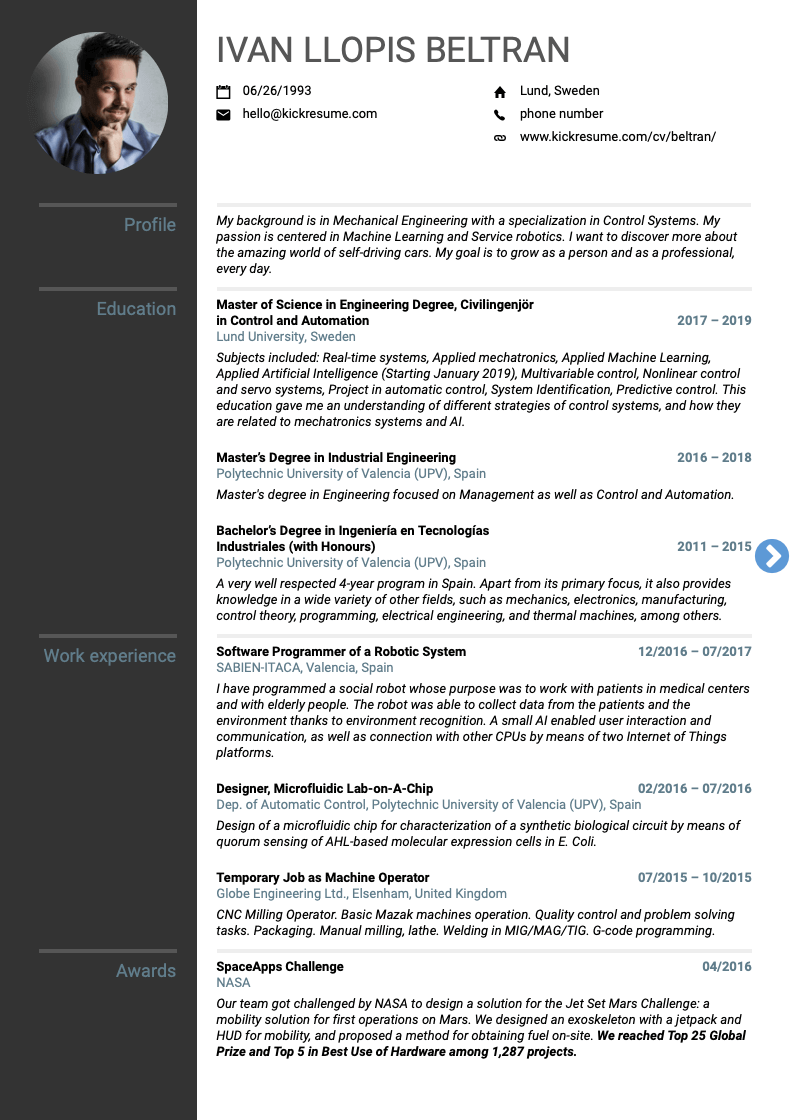 5. Marketing Intern Resume Sample
If you're lacking vocabulary that would suit your resume, just take a sneak peek at our databases of action verbs and powerful adjectives.
It's the very best tool to talk about your job responsibilities and accomplishments without sounding overly repetitive or way too boring. Here's what the following resume offers in the Work experience section: conducted, worked, participated, supported and grew.
Profile summary doesn't fall short of varied vocabulary, either. Adjectives like creative, motivated, extensive, strong, extraordinary, forward-moving describe the personality of the job seeker in bright colors.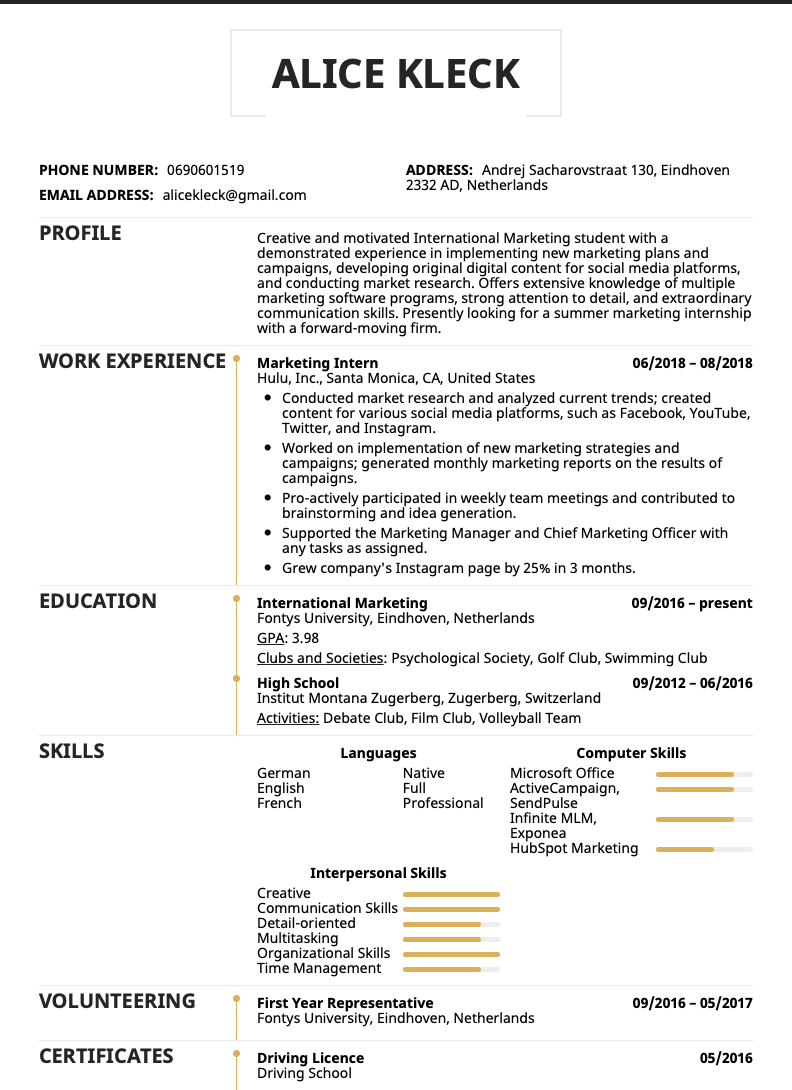 6. Pharmacy Intern Resume Sample
Not much to say on your resume? One column layout will do. Too much information to include? Opt for two columns.
The will result in less white space on the right side of the page and much better readability. After all, the appearance of your resume matters, too — the more you'll reflect people's reading patterns in the layout, the better it will perform.
Also, try to fit everything on one page. Multi-page resumes are rare and should only be used by seasoned professionals applying for senior positions that require many years of experience in the given field.
7. Psychology Intern Resume Example
Don't undermine the potential of your Skills section, it can do wonders when written properly.
Both interpersonal and professional skills are necessary for the recruiters to gauge your personality traits and level of expertise. Pick a handful of the most relevant skills for the job you're applying for and try to assess them.
Stick to reality and be true to yourself. Nonetheless, remember not to use less than four stars out of five.
Realising there's space for improvement is cool, but uncovering your weaknesses is not sexy — unless you're using them to describe the path that led you to success.